Gas Monitoring Systems Service & Installation
Fixed Gas Detection Equipment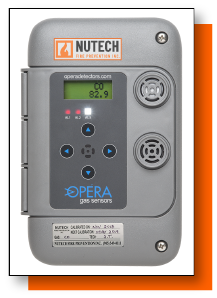 Nutech Fire Prevention Inc. specializes in fixed gas detection & monitoring systems for commercial and industrial applications. We cover all aspects of gas detection requirements, from consultation and sales to installation, commissioning, and calibrations on-site. Our technicians are trained and factory-certified for the maximum level of service, including verifying the operation of the air handling equipment connected to the system. We go the extra mile to ensure your building is safe and healthy.
Our years of experience working with building owners and operators and industry best practices for optimal performance of a gas detection system recommends scheduled quarterly calibrations. Depending on the type of sensors, as they age they will drift towards either greater or lower sensitivity. Sensors that drift towards greater sensitivity result in the ventilation system unnecessarily running more often, increasing energy costs. Sensors that drift into lower sensitivity result in the ventilation system responding slowly to toxic amounts of gas in the air, creating a health and safety issue. When we do calibrations, we apply a test gas to the sensor and make the required adjustments to the detector to keep it operating at the optimum efficiency. This results in a safe and healthy building that has the highest level of energy efficiency. Frequent calibration also keeps the detectors operating at their optimum level. Generally,  produces longer sensor life, reducing the capital expenditures of replacing the sensors and creating tangible savings due to lower utility and operating costs.
Our company also realizes that factors such as model and age of equipment, operating conditions, and so on may impact the calibration schedule. By looking at all the factors that affect sensors, including the number of detectors providing coverage, Nutech Fire Prevention Inc. advises on an appropriate calibration schedule—two, three, and four times annually, or more frequent in demanding applications. Safety of the public, onsite personnel, and building health is priority number one.
Nutech is also pleased to announce that it is the exclusive distributor for Gas Detection Products & Equipment across Ontario, thereby allowing us to provide customers with reasonably priced professional services. 
Contact Us Today
 for a free assessment.
Areas of Gas Detection Service
Arenas
Automotive Dealerships
Mechanical Rooms
Chemical Storage
Swimming Pools
Oil and Gas
Parking Garages
Warehouses